Sanitary Electric Diaphragm Valve with Tri-clamp Ends, Automatic Return
Reference:
SV-4EC
Sizes available:
1" to 4", DN25-DN100
End connection:
tri-clamp
Body material:
ASTM A351 CF3M (1.4435) as default, AISI 316L Forged Body (1.4435), ASME BPE 316L, or 1.4435-BN2 (316L) Fe<0.5% Forged Body
Seat material:
EPDM+PTFE
Max. working pressure (default):
145psi (10bar)
Temperature range:
-22°F to 266°F/ (-30 to 130℃), or higher upon request
Operation:
electric actuator, 24V
Body structure:
straight, Tee, U-tee, tank bottom, multi-channel
Surface treatment:
Ra 16 ~ 32µin (0.4 ~ 0.8µm), Ra 25µin as default
INQUIRY
SV-4EC series is a sanitary electric diaphragm valve with tri-clamp connections. The valve is excellent for flow control as well as for open/close duties. It is mainly used for sampling, biological systems, laboratory engineering, etc. SV-4EC operates automatically via an electric actuator.
| | |
| --- | --- |
| Body Material | ASTM A351 CF3M (1.4435) as default, AISI 316L Forged Body (1.4435), ASME BPE 316L, or 1.4435-BN2 (316L) Fe<0.5% Forged Body |
| Seat Material  (diaphragm) | EPDM+PTFE |
| Seat Material  (diaphragm) OPTION | Single EPDM, EPDM+PTFE (2-piece), Viton (FPM) |
| End Connections | butt-welded, sanitary tri-clamp, threaded, or others upon request. |
| Max. Working Pressure | 145psi (10bar) |
| Working Temperature | -22°F to 266°F/-30 to 130℃ |
| Internal Finish | Ra 16 ~ 32µin (0.4 ~ 0.8µm), Ra 25µin as default. |
| External Finish | Ra 16 ~ 32µin (0.4 ~ 0.8µm), Ra 32µin as default. |
| Operation: | electric actuator, 24V |
| Body Structure | straight, Tee, U-tee, tank bottom, multi-channel. |
Design Features
● LCD with English menu
● Single button auto-tuning
● Manual operation is available
● Input 0/4-20mA, Ouput 0/4-20mA
● Bus communication mode busRS485
● Automatically return to safeposition once power outage
● Human body induction sensors for automatically open and close
● Power 24V ±10%
Operations
● Handles
Plastic handwheel
Stainless handwheel
● Actuators
Pneumatic plastic actuator
Pneumatic stainless steel actuator
Electric actuator
● Units for intelligent control and indication:
Proximity Switches (position sensor)
Limit Stroker
C-top control
IL-top control (Positioner)
SELF-EMPTYING INSTALLATION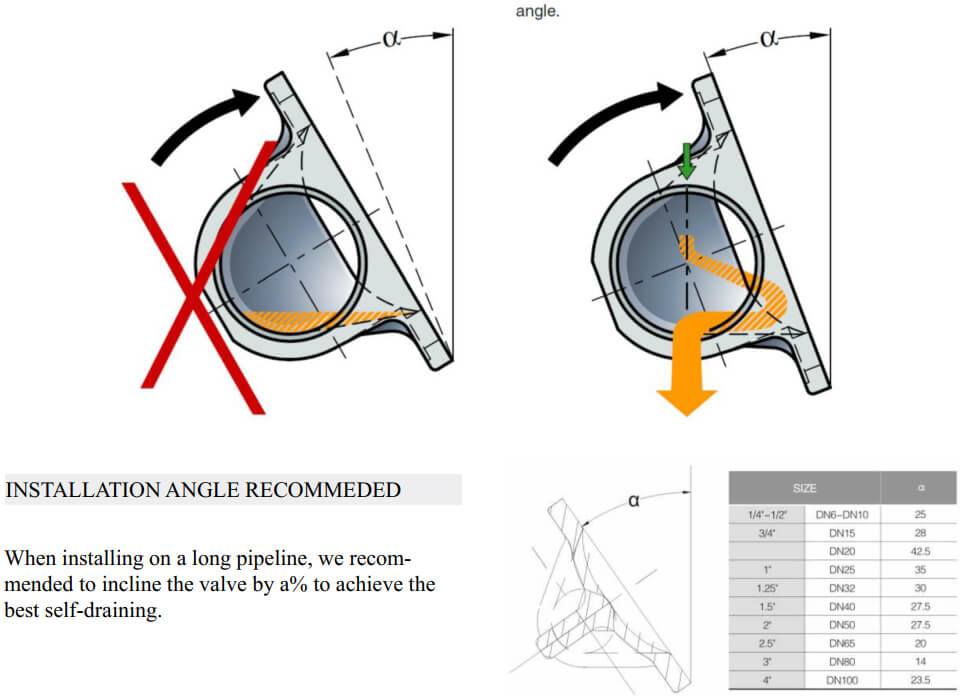 Related products