Single Seated Control Valve, Sanitary Design, Pneumatic Operated
Reference:
SV-5DSPC
Sizes available:
1"-4" (DN25-DN100)
End connection:
butt-welded, tri-clamp
Body material:
AISI 304, or AISI 316L
Seat material:
EPDM, FDA177.2600
Max. working pressure:
145psi (10bar)
Temperature range:
14°F to 248°F (-10℃ to 120℃, EPDM)
Operation:
304SS pneumatic actuator, NC/NO/AA
Actuator air pressure:
58 ~ 102psi (4-7bar)
Internal treatment:
Ra 16 ~ 32µin (0.4 ~ 0.8µm)
INQUIRY
SV-5DSPC series is a pneumatic type shut-off and divert seat valves with stainless steel actuator. It is widely used wildly used in food-processing, beverage, pharmaceutical and fine chemicals industries, etc.
Valves are operated automatically by a single-acting or a double-acting pneumatic actuator. The shaft is moved to place the valve in the open or closed position by supplying compressed air. The interchange of normally open and normally closed functions can be realized by rotating 180° of the cylinder.

Body Material
AISI 304, or AISI 316L
Seat Material  (Default)
EPDM, FDA177.2600
Seat Material  (Option)
FPM (Viton), FDA177.2600
End Connections
butt-welded, tri-clamp
Max. Working Pressure
145psi (10bar)
Working Temperature
14°F to 248°F (-10℃ to 120℃, EPDM)
Internal Finish
Ra 16 ~ 32µin (0.4 ~ 0.8µm), Ra 32µin as default.
External Finish
sandblast, or others upon request.
Pneumatic Actuator Types
Normally Closed (NC) – Air to open and spring to close;
Normally Open (NO) – Air to close and spring to open;
Air to Air (AA) – Air to open, air to close.
Actuator air pressure
58 ~ 102psi (4 ~ 7bar)
Units for intelligent control and indication
Proximity Switches (position sensor)
Stroke Limiter
C-top control
IL-top control (Positioner)
Diaphragm Actuator
FLEXIBLE BODY COMBINATIONS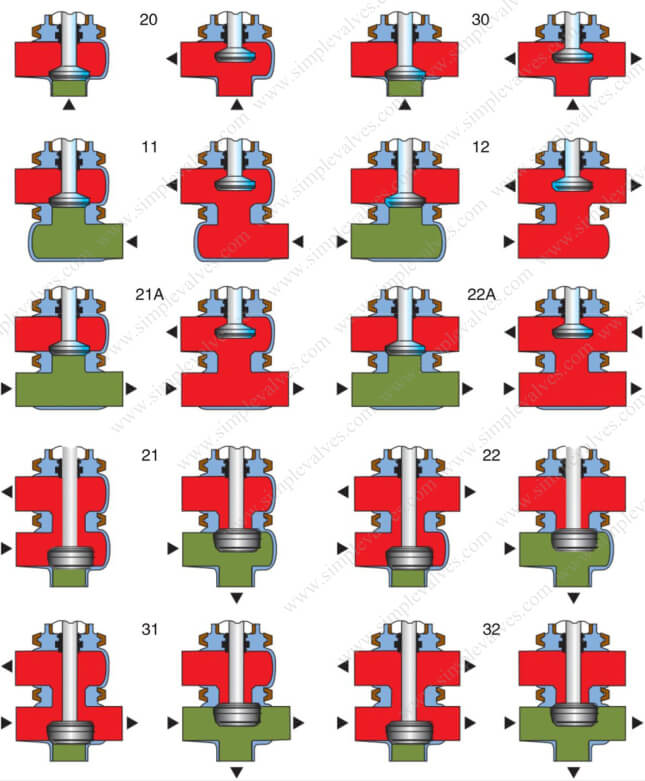 Design Features
● Unique design, sterile, no dead angle
● Compact and robust design, 360° adjustable body.
● Normally closed (NC) as the default, the NC and NO function are interchangeable by rotating 180° of the cylinder.
● Easy assembly/disassembly by loosening clamp in middle of the valve body
● Hygienic design according to 3A standard
● Manual handwheel, pneumatic actuator are interchangeable.
● A wide selection of different body combinations.
● 100% hydraulic tested / 100% inspected
Operations
● Handles
Stainless steel handwheel
Fine-tuning handwheel
● Actuators
Stainless steel actuator
● Units for intelligent control and indication:
Proximity Switches (position sensor)
Stroke Limiter
C-top control
IL-top control (Positioner)
Diaphragm Actuator
Related products