Stainless Steel Diaphragm Valve with Pneumatic Actuator, Plastic or SS Actuator
Reference:
SV-4PC
Sizes available:
1" to 4", DN25-DN100
End connection:
tri-clamp
Body material:
ASTM A351 CF3M (1.4435) as default, AISI 316L Forged Body (1.4435), ASME BPE 316L, or 1.4435-BN2 (316L) Fe<0.5% Forged Body
Seat:
EPDM+PTFE
Max. working pressure (default):
Normally closed, EPDM=87psi (6bar), PTFE=65psi (4.5bar) / Normally open and double action, EPDM=116psi (8bar), PTFE=87psi (6bar)
Max. working pressure (option):
Normally closed EPDM=116psi (8bar), PTFE=87psi
Temperature range:
-22°F to 266°F/ (-30 to 130℃), or higher upon request
Operation:
plastic or stainless pneumatic actuator, NC/NO/AA type for choose from
Actuator air pressure:
58-102psi (4-7bar)
Surface treatment:
Ra 16 ~ 32µin (0.4 ~ 0.8µm), Ra 25µin as default.
INQUIRY
SV-4PC series is a sanitary stainless steel diaphragm valve with pneumatic actuator and clamp connections. The valve is excellent for flow control as well as for open/close duties. It is mainly used for sampling, biological system, laboratory engineering, etc. SV-4PC diaphragm valve operates pneumatically via plastic or ss actuator.
Body Material
ASTM A351 CF3M (1.4435) as default, AISI 316L Forged Body (1.4435), ASME BPE 316L, or 1.4435-BN2 (316L) Fe<0.5% Forged Body
Seat Material  (diaphragm)
EPDM+PTFE
Seat Material  (diaphragm) OPTION
Single EPDM, EPDM+PTFE (2-piece), Viton (FPM)
End Connections
butt-welded, sanitary tri-clamp
Max. Working Pressure
Normally closed EPDM 87psi (6bar), PTFE 65psi (4.5bar) as default
Normally closed EPDM 116psi (8bar), PTFE 87psi (6bar) as option
Normally open and double action EPDM 116psi (8bar), PTFE 87psi (6bar)
Working Temperature
-22°F to 302°F/-30 to 150℃ (Depending on Seal Material) (Stainless Actuator)
-22°F to 266°F/-30 to 130℃ (Depending on Seal Material) (Plastic D27Actuator)
Internal Finish
Ra 16 ~ 32µin (0.4 ~ 0.8µm), Ra 25µin as default.
External Finish
Ra 16 ~ 32µin (0.4 ~ 0.8µm), Ra 32µin as default.
Pneumatic Actuator Types
plastic actuator or stainless actuator
Actuator Operation Types
Normally Closed (NC) – Air to open and spring to close;
Normally Open (NO) – Air to close and spring to open;
Air to Air (AA) – Air to open, air to close.
Actuator air pressure
58 ~ 102psi (4 ~ 7bar)
Units for intelligent control and indication
Proximity Switches (position sensor)
Limit Stroker
C-top control
IL-top control (Positioner)
Design Features
● Unique seal design, no dead angles
● EHEDG certified sealing concept
● Stainless steel bonnet with sanitary internals
● Sanitary surface finish, available with Ra < 0.4µm or EP (SF1 and SF4)
● Manual handle, pneumatic actuator are interchangeable
● A wide selection of body types for choose from, U type/T type/Multiport
● 100% hydraulic tested / 100% inspected
● Standards: ASME BPE, 3A, DIN, ISO / IDF
● Certificates: 3A, FDA, PED 97/23/EC
Operations
● Handles
Plastic handwheel
Stainless handwheel
● Actuators
Pneumatic plastic actuator
Pneumatic stainless steel actuator
Electric actuator
● Units for intelligent control and indication:
Proximity Switches (position sensor)
Limit Stroker
C-top control
IL-top control (Positioner)
SELF-EMPTYING INSTALLATION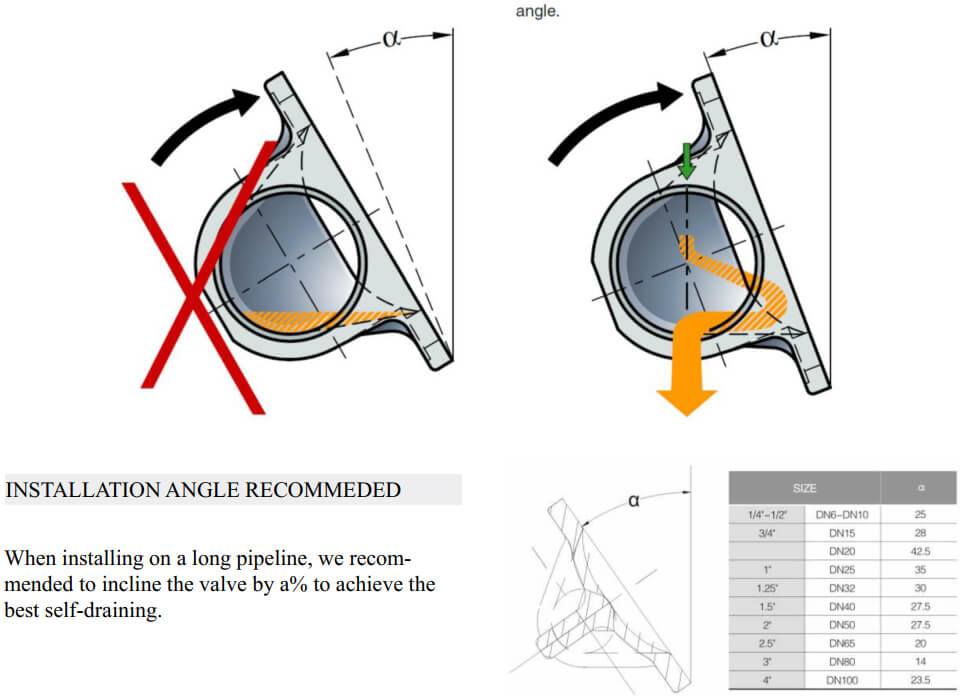 Related products