Double Seat Mixproof Valve with Pneumatic Actuator, E-C Series
Reference:
SV-5MP-E
Sizes available:
1 1/2" to 4" (DN40-DN100)
End connection:
butt-welded, tri-clamp
Body material:
AISI 316L
Seat material:
EPDM, FDA177.2600
Max. working pressure:
145psi (10bar)
Min. working pressure:
absolute vacuum
Temperature range:
14°F to 266°F (-10 to 130°C)
Operation:
pneumatic actuator + C-TOP
Actuator air pressure:
79-102 psi (5.5 bar-7 bar)
Internal treatment:
Ra 16 ~ 32µin (0.4 ~ 0.8µm)
Unique design:
external CIP supply
INQUIRY
The SV-5MP-E series mixing proof valve with external CIP supply, is designed to meet when there are two different product flows through the same valve, both preventing fluid mixing and can also monitoring the fluid working condition.
● This valve is normally closed (NC), remotely controled through compressed air . This valve is companied with two small pneumatic valves, one for monitoring, another one for CIP.
● Plug (upper stem inside of a divert valve) has two seals which form a leakage chamber between each other. The leaked medium flow into the chamber, discharges through detector valve. Supply air to actuator can make the valve clean in place (see figure 2).
● Under cleaning, fluid flow directly to the plug. This valve is unsensitive to water hammer effect.
FLEXIBLE BODY COMBINATIONS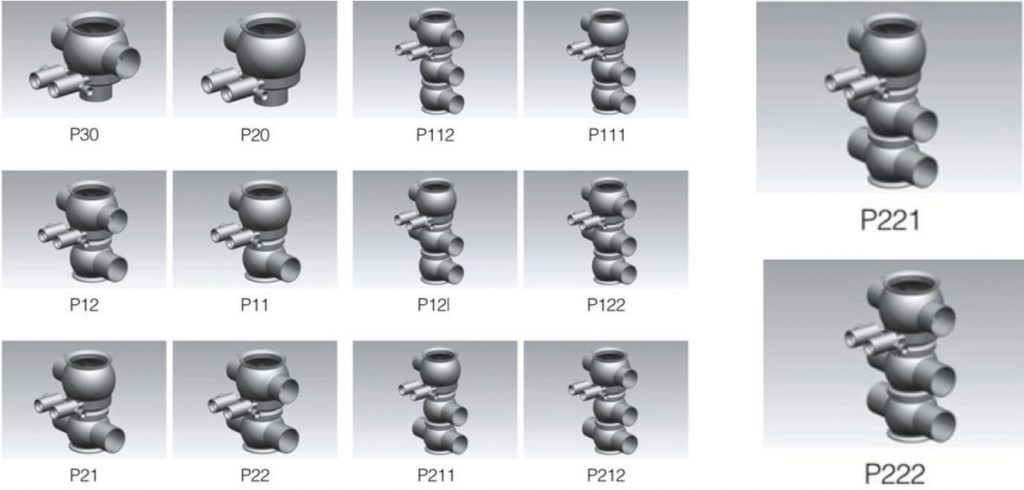 Product wetted parts
AISI 316L
Other stainless steel parts
AISI 304
Seat Material  (Default)
EPDM, FDA177.2600
Seat Material  (Option)
FPM (Viton), FDA177.2600
End Connections
butt-welded, tri-clamp
Max. Working Pressure
145psi (10bar)
Min. working pressure
absolute vacuum
Working Temperature
14°F to 266°F (-10 to 130°C), 284°F (140°C) for short time sterilisation.
Internal Finish
 Ra 32μin (0.8μm) as default,  Ra 16μin (0.4μm) as best.
External Finish
sandblast, or others upon request.
Pneumatic Actuator Types
Normally Closed (NC) – Air to open and spring to close;
Normally Open (NO) – Air to close and spring to open;
Air to Air (AA) – Air to open, air to close.
Actuator air pressure
79-102 psi (5.5 bar-7 bar)
Units for intelligent control and indication
C-top control
IL-top control (Positioner)
Electric connection
AS-I bus connection
Design Features
● External CIP supply
● Default with normally closed pneumatic actuator
● Compact and robust design, forged spherical bodies
● Pressure balanced design
● One-piece Body & Clamped Body for choose from
● A wide selection of different body combinations.
● Easy disassembly by releasing the clamp
● Cleaning/Sterilization Parts for Options
● 100% hydraulic tested / 100% inspected
Operations
● Actuators
Stainless steel actuator
● Units for intelligent control and indication:
C-top control
IL-top control (Positioner)
Electric connection
AS-I bus connection
Related products