Sanitary Mixproof Valve with Pneumatic Actuator, IS-C Series
Reference:
SV-5MP-IS
Sizes available:
1 1/2" to 4" (DN40-DN100)
End connection:
butt-welded, tri-clamp
Body material:
AISI 316L
Seat material:
EPDM, FDA177.2600
Max. working pressure:
145psi (10bar)
Min. working pressure:
absolute vacuum
Temperature range:
14°F to 266°F (-10 to 130°C)
Operation:
pneumatic actuator + C-TOP
Actuator air pressure:
79-102 psi (5.5 bar-7 bar)
Internal treatment:
Ra 16 ~ 32µin (0.4 ~ 0.8µm)
Unique design:
Judging the seat is broken or not by observing whether the liquid flows out from the bottom of the valve
INQUIRY
SV-5MP-IS series is a completely hygienic double sealing mix-proof valve. This system allows for the simultaneous processes in the two bodies of the valve by providing interface between the two fluids, preventing the possibility of product contamination, the leakage chamber and leakage detector can be self-cleaned through seat lifting. The mixproof valve is applied to food-processing industries, especially in the beverage and diary industries.
● Lift type mixing proof valve is remotely operated by compressed air. It is normally closed before running.
● The mixing proof valve is constructed with two independent plugs, which will form a leakage chamber to atmosphere under normal working status. When occasional failure causes leakage happen, medium will flow into the chamber and be diacharged at the outlet port.
● The leakage chamber is closed when the valve is operating, the medium can flow through one pipeline to another. This valve can be clean in place. Many options of CIP and SIP combination are available to users.(Refer to cleaning sterilization function options)
● Clean system can clean the upper, lower stem and leakage chamber, which ensure the valve to be high hygienic. Effectively cleanig system makes the fluid that special for (CIP) clean in place directly wash all the inside calve body, it takes shorter time than common cleaning system.
● Another beneficial of the high cleaning system is that the lift type mixing proof valve can be applied to aseptic processing. If user's steam into CIP pipeline, the system will constitute a shield that can isolate air.
FLEXIBLE BODY COMBINATIONS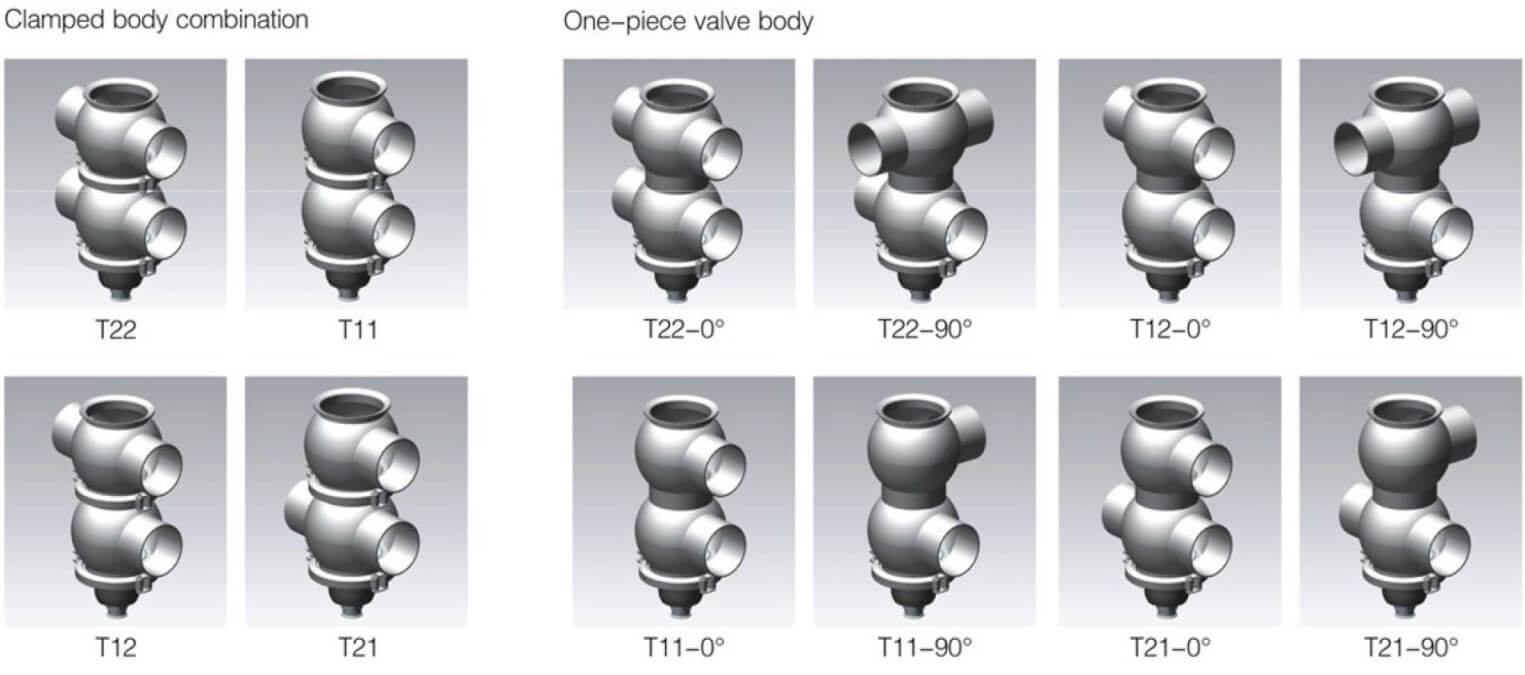 Product wetted parts
AISI 316L
Other stainless steel parts
AISI 304
Seat Material  (Default)
EPDM, FDA177.2600
Seat Material  (Option)
FPM (Viton), FDA177.2600
End Connections
butt-welded, tri-clamp
Max. Working Pressure
145psi (10bar)
Min. working pressure
absolute vacuum
Working Temperature
14°F to 266°F (-10 to 130°C), 284°F (140°C) for short time sterilisation.
Internal Finish
 Ra 32μin (0.8μm) as default,  Ra 16μin (0.4μm) as best.
External Finish
sandblast, or others upon request.
Pneumatic Actuator Types
Normally Closed (NC) – Air to open and spring to close;
Normally Open (NO) – Air to close and spring to open;
Air to Air (AA) – Air to open, air to close.
Actuator air pressure
79-102 psi (5.5 bar-7 bar)
Units for intelligent control and indication
C-top control
IL-top control (Positioner)
Electric connection
AS-I bus connection
Design Features
● Default with normally closed pneumatic actuator
● Compact and robust design, forged spherical bodies
● Pressure balanced design
● One-piece Body & Clamped Body for choose from
● A wide selection of different body combinations.
● Easy disassembly by releasing the clamp
● Cleaning/Sterilization Parts for Options
● 100% hydraulic tested / 100% inspected
Operations
● Actuators
Stainless steel actuator
● Units for intelligent control and indication:
C-top control
IL-top control (Positioner)
Electric connection
AS-I bus connection
Related products