IL-TOP (Positioner), Square Type, Intelligent Control
Reference:
SV-11-IS
Function:
locating valve position by setting a value, 4-20mA input signal and the 4-20mA output signal feedback.
Signal Input (standard):
0/4-20mA, 0-5/10V
Signal Output (option):
0/4-20mA, 0-5/10V feedback
BUS protocol (option):
Device Net Bus control
Work with Actuator:
Angular actuators
Actuator type:
Air/Spring (single-acting) or Air/Air (double-acting)
Actuator air pressure:
58-102 psi (4-7 bar)
Power supply:
24VDC
Protection grade:
IP67
Explosion certification:
EXD II BT4
Interface:
LCD display
INQUIRY
The SV-11-IS series IL-TOP (Square Positioner) is mainly used for fluid process control. It can be installed on all kinds of valves with linear actuators, such as pneumatic angle seat valves, pneumatic diaphragm valves, pneumatic butterfly valves, pneumatic divert seat valves, pneumatic ball valves, and other valves that can be applied as traffic section. IL-TOP can be simply assembled with actuators, it is particularly suitable for automatic systems with high clean demands.
The IL-TOP can be used as a positioner or processing controller:
● As a positioner, it can locate valve position by setting a value.
● As a processing controller, MPU will receive a signal from the control unit, by comparing the setting position with the actual position of the valve, through the PID control algorithm, the processing controller will drive the valve to an exact target position.
VARIETY OF CONFIGUARATION
● Valve Sizes: 1″-4″, DN25-DN100
● Max. working pressure: 145psi (10bar)
● Air pressure: 58-102psi (4-7bar)
● Material: AISI 304/316L (1.4301/1.4404) and 1.4435 Nb2
● Working temperature: -10℃ to 130℃
● Signal input: 0/4-20mA, 0-5/10V
● Output feedback: 0/4-20mA, 0-5/10V(selection)
● BUS protocol: DEVICE NET BUS (selection)
● Power supply: DC 24V
● Protection grade: P67
● Operation interface: LCD display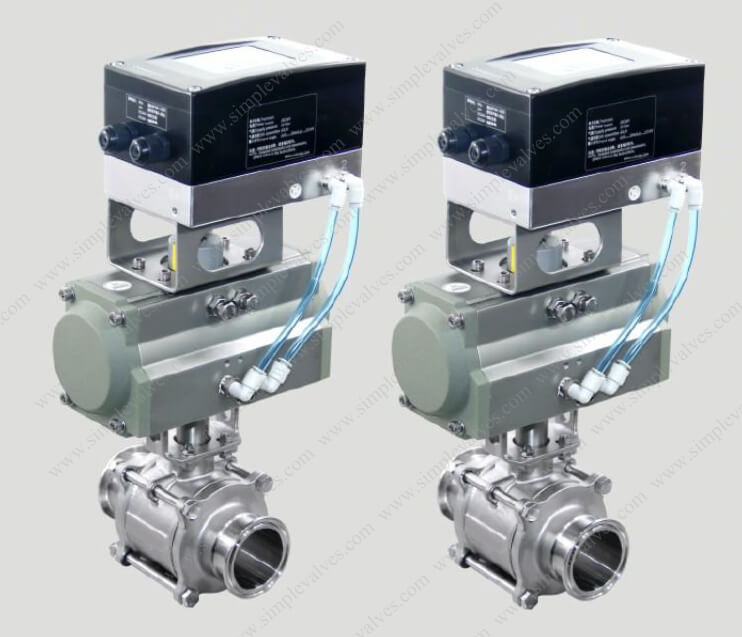 PLEASE CONTACT US FOR MORE INFO
Related products